Who we are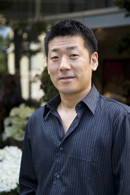 Mark Hosonuma is Hanahiro Chief Floral Designer.
"Aloha! We will come out to your home (or office) to see what you like, what you need and how you like to entertain. We can then create custom floral designs that fit your lifestyle, taste and décor.
Your vases, his or her vases – vintage or contemporary.  Choose weekly, bi-weekly or monthly floral deliveries. Or order for your special events and parties.
Whether you favor romantic, traditional designs, understated elegance or dramatic glam-bam bling, We will create the look you love with exquisitely fresh flowers." Mark
Listening to the voice and requests of our friends and customers is what we do best. Growing up I always loved to create artful objects with my hands. Combining colors and textures to create beautiful things has always been my hobby. Many times, I had the opportunity to co-design the flowers for weddings and I loved the experience. Being surrounded by flowers brought happiness and joy in my life. After a few years in France, in 2011 I decided to change my profession and started working alongside some of Hawaii's top florists.
After a couple of months I realized flowers were my passion and with some courage decided to pursue my dream and started my own Floral design company in Jan 2011.
I think of my designs as young, chic and modern. I draw my inspiration from my everyday life and nature. The energy in Hawaii inspires me and allows me to express myself fully.
I seek to provide my customers with the freshest and finest blooms, whether it is a single stem, a gift for a special occasion or a centerpiece for a beautiful wedding.
The company has my family name as a reflection of my personal touch on every design and product being sold. The gifts on the website have been carefully selected to complement my flower arrangements and create a gift that will bring joy to your special occasion. Our goal is to make you smile.